Seelan:
I was present at this book launch. The readings were wonderful and it was very heartwarming to witness this step taken in healing by these Singaporean ex-ISA detainees. Please support them by getting a copy of the book at
Kinokuniya
or
Select Books
.
TOC EXCLUSIVE: Ex-ISA detainees speak out
By Terence Lee / Youth Editor
Sunday, 1 March 2009
Pictures by Damien Chng (Top: Teo Soh Lung recites her poem to a captivated audience.)
28th FEBRUARY, 2009 — THE SCENE seemed surreal — though it was a book launch, the event was more like a reunion of the who's who in the Singapore activism scene of both past and present.
From grey hair to bright faces, all were there to attest to a rarely-spoken fact of Singapore history — the looming spectre of detention without trial, and of the human rights violations — beatings, torture, and psychological manipulation – that happened behind closed doors.
Kicking off the event at 3.20pm, Ethos Books publisher Fang Hoe Fang apologised for the cramped venue in which the book launch was held.
Originally scheduled to be held at the Geylang East Community Library after an initial agreement, they were later told that the application to use the library had been rejected. No reasons, however, were given for the change, he said.
The alternative location — Muse House — sits in a quiet street next to Katong Shopping Centre, by no means an accessible location. Nevertheless, the usually sparse and quiet art gallery saw quite a sensational buzz as about 130 people crammed into the small space.
"The younger ones," as Hoe Fang put it, were told to go upstairs and watch from a projector screen. Some had to stand at the back of the room due to the obvious lack of seats. The audience was reminded not to lean against the wall for fear that the paintings, which were hung all around, would be damaged. "Admire them, or you can bring them home — for a price," Fang quipped to laughter.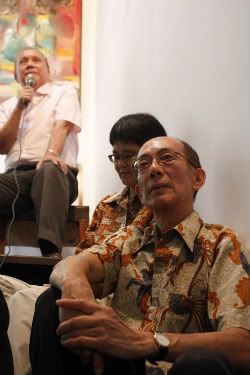 The book — Our Thoughts are Free, edited by political prisoners Tan Jing Quee, Teo Soh Lung and Koh Key Yew consists of poems and prose written by ex-Internal Security Act (ISA) detainees like the late James Puthucheary and Ho Piao, as well as the likes of Said Zahari, Francis Khoo, and Wong Souk Yee.
The ISA is a legislation that gives the Singapore government the right to arrest and imprison individuals without trail for up to two years at a time. Critics have called it a clear violation of human rights. The Singapore government maintains that the ISA is necessary to safeguard the securiy of the nation. So far, more than 100 individuals have been arrested under the ISA since Singapore's founding in 1963.
"We must confront the question of detention without trial"
After the introduction by Hoe Fang, Jing Quee, who is the chief editor, spoke at length about the concept behind the book (left: Jing Quee speaks out as Soh Lung and Key Yew listens on).
The title came about quite accidentally, during one of the discussions when Soh Lung mentioned about the old German Song Die Gedanken Sind Frei which she used to sing while in detention. Expressing the idea of how our thoughts are free, it is a song of political struggle first used by the anti-Nazi resistance movement in Germany.
He next paid tribute to several of the authors, many of whom either passed on or migrated to another country. James Puthucheary, a passionate unionist, was detained on 3 occasions — in 1951 and in 1956 under the British Colonial government, and finally in 1963 under Operation Cold Store. He died of stroke in 2000.
Jing Quee also related how Said Zahari, the one-time editor-in-chief of the Utusan Melayu who now resides in Malaysia, used to ration the toilet paper that was given to him so that he could scribble his poems on them.
A member of the audience would remark wittingly during the question-and-answer session that it was strange that Mas Selamat could manage to use rolls upon rolls of toilet paper to soften his landing and enable his escape, drawing delirious laughter from the crowd.
"Maybe times have really changed," he said in jest.
For Teo Soh Lung, she took a different approach from the grim and downcast poems written by some of her fellow ex-detainees. Described by Jing Quee as an accidental poet, he said that if not for the detention, Soh Lung would never have bothered writing any poetry.
But the necessity of maintaining sanity while in detention meant that Soh Lung spent her time observing the critters and animals that entered her cell. She then wrote poems based on these creatures that kept her company during her ordeal.
Rounding up his brief survey of the book, Jing Quee said:
"We cannot begin to understand the history of modern Singapore and its emergence as a nation state until we have come to face this whole question of political detention without trial — a law which is bequeathed to us by the departing colonial power…nothing can change here unless we confront this arduous legacy which we have inherited from the past. [This legacy] should rightly be assigned to the dustbin of history."
After Jing Quee's short survey came a screening of the video produced by the BBC detailing political refugee Francis Khoo's ordeal and the political situation in Singapore. Francis Khoo now resides in London and is retired, having formerly worked as a solicitor in a law firm. His wife, Dr Ang Swee Chai, is a well-known author who wrote From Beirut to Jerusalem.
A short break followed after the screening. The session then resumed with readings of the poems and a short question-and-answer session to round up the whole event.
"They do take people in the middle of the night!"
The event was graced by many past ISA detainees. Lim Hock Siew, who was detained from 1963 to 1982, was present alongside Dr. Poh Su Kai. Both were arrested during Operation Cold Store. Also among the audience were other detainees from the Marxist Conspiracy, namely Kenneth Tsang, Wong Souk Yee (whose prose is featured in the book as well), and Chew Kheng Chuan, who had declined to be interviewed by TOC.
Besides the detainees, the Chee siblings from the SDP came for the event as well, along with filmmaker Martyn See and activist Seelan Palay.
A member of the audience, Mr Cheng, who is in his 70s, came to this event out of curiosity and at an invitation of a friend. Despite

having lived through the era where ISA arrests were common, he confessed that he did not know a lot about the circumstances behind the controversies.
"We were quite shocked when the arrests happened. When the British were in power, such arrests were not strange as we were controlled by other people. But we simply could not imagine our leaders — some of whom we really worshipped — arresting our own people. We didn't expect it," he said in mandarin.
"What we heard out on the streets were different from what we read on the papers."
Despite the presence of detainees who felt they were grossly mistreated by the government, the event was a relatively light-hearted affair, with much friendly banter between audience and speaker.
(Right: audience who are on the second floor watching through a projector screen.)
Kheng Chuan's wife shared with the audience an incident that happened in school with their 15-year-old daughter who had a history lession in her school. The topic was: the culture of fear in Singapore. The teacher made a remark that while people do get sued in Singapore, they do not get taken away in the night.
The daughter replied, "They do!" Her teacher retorted, "No they don't." But her daughter kept insisting, even to her classmates, that "they do take people away in the middle of the night."
"I was thinking, if there is to be another book, maybe we should name it: They do take people in the middle of the night!" she said, to cheer and applause.
For some of the detainees at least, they have put the past behind them and moved on. When asked if they still feel resentful over what had happened, Souk Yee said: "Look at me. Do I look like I'm bitter?"
Similarly, Soh Lung waved off any notion that she is still angry over the arrest. However, until today, both are still puzzled over why they were arrested for their involvement in the so-called Marxist Conspiracy.
"Honestly speaking, we could only guess. Perhaps we were really quite politically active, and the government saw us as a threat," said Soh Lung.
Souk Yee also related to TOC about the day she was taken away and her house ransacked. When the ISD agents came over to her place, Souk Yee thought they were simply police officers who came over to address some civil complaint by a disgruntled neighbour. When quizzed about what she thought of the allegations that she was involved in a plot to topple the Singapore government by force, she said: "I found it so laughable."
For Soh Lung, she remains skeptical over the political situation in Singapore; she does not believe that the government has become more open.
"When Goh Chok Tong talked about a more consultative society, looked at what happened with all the defamation suits? I don't think Singapore has liberalised. Even with Lee Hsien Loong at the helm and all this talk about a lighter touch on the Internet, its still quite difficult to predict what the government might do next."
Speaking to all idealistic youths out there, including this reporter, she said: "Better be careful at what you say. Test the boundaries if you want, but be aware of the potential consequences that might await you, especially in Singapore."
"Our Thoughts are Free" will be available for purchase at Kinokuniya and Select Books from Tuesday (3rd March).

Also read a report on the event by the Singapore Democrats, which includes a noteworthy poem by Tan Jing Quee.